Preventative Maintenance
What is Preventive Maintenance on a Vehicle?
Most people are not mechanics, and some couldn't care less about their car as long as it looks good and drives well. But a responsible driver should take the brief five minutes every other week or so to check the essential parts of their vehicle. If you pay proper attention to your car's maintenance needs, you will save a lot of time, money and aggravation by avoiding some expensive repairs.
Often bewildered by the mass of wires, electronics, and hoses that surround a modern engine, many drivers simply put themselves at the mercy of service facilities that may only be interested in running up your bill. At Covenant Auto Service, LTD in Manassas VA, we want your business for the life of your current vehicle and all others to come. We are not in the business of charging a fortune for a one-time visit.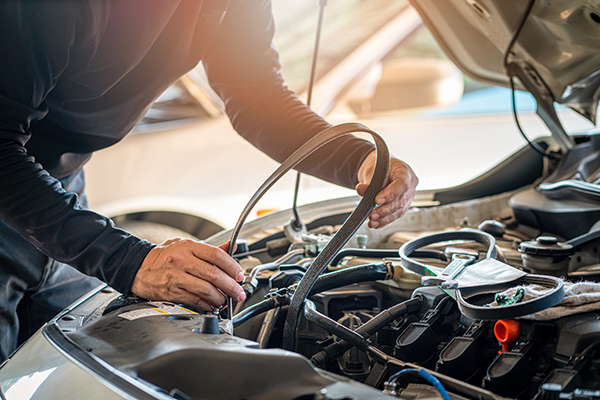 From better fuel efficiency to retaining your car's value, simple car maintenance will extend the smooth-running time of your vehicle. Bottom line, don't skip scheduled service.
Thanks to computer-controlled ignitions, improvements in filter technology, upgraded suspension designs and other mechanical improvements developed by the manufacturers, today's vehicles require less maintenance than the cars our parents drove.
You don't have to be an expert to know that preventive maintenance is the best way to make sure your vehicle continues to run properly. Pay attention to your owner's manual. It will include the recommended manufacturers maintenance schedule. There are some exceptions that might require more frequent oil changes. For example, driving in an abnormally dusty climate or taking a lot of short, stop-and-go trips. But the oil change interval for such conditions is again spelled out in the owner's manual.
Of course, there's the flip side to all of this: Some drivers never have their cars serviced and then wonder why the engine seizes after the oil has turned to sludge. Generally, as drivers we know it's important to maintain our vehicles. But between work, the kids and the dozens of other things we'd rather be doing, basic car maintenance can often fall to the wayside. But did you know that taking care of your vehicle not only helps it perform better; it also could mean money in the bank for you?
Automotive preventive maintenance keeps your car in good working order and avoids problems that may lead to roadside breakdowns. At Covenant Auto Center of Manassas VA, we believe preventative maintenance is the #1 priority of a car owner. Why? Preventative maintenance ensures that your vehicle's major mechanical systems are functioning properly and efficiently. After all, your car is a great investment, and you want to make sure it lasts. Keeping up with your car's maintenance regularly reduces the likelihood of problems and makes it easy to spot any issues, plus prolongs the life of your vehicle. Be certain to bring in your Honda/Acura for regular preventative maintenance at these mileage points:
| | |
| --- | --- |
| 7,500 | 30,000 |
| 15,000 | 37,500 |
| 22,500 | 45,000 |
Tire Pressure
Another easy maintenance task is to check your tire pressure. Invest a few bucks in a tire gauge and check your tire pressure regularly (including the often-overlooked spare!). This helps to improve fuel efficiency, cut down on tire wear and tear and lets you know if your vehicle is correctly aligned.
Preventative maintenance checks and services satisfy the factory warranty requirements.
Satisfaction Guaranteed for All Our Services
​